Advantage Subsoiler
Advantage Restructuring
Soil Conservation
Mounted Advantage
The mounted Advantage subsoiler uses Sabre Ultralite tines to remove soil compaction in the main rooting zone. It can replace a traditional subsoiler or be used as a vital tool in a No-Till cultivation system. With low organic matter levels in soil, a wet climate and often high clay content, British soils require a good restructuring pass to remove compaction and help promote improved soil health, even in No-Till systems. The Advantage will deliver a sustained restructuring pass with minimum surface disturbance. This reduces the need for following cultivations, prevents weed seeds from being dropped throughout the soil profile and keeps fine soil particles on the surface.
The Advantage can also be fitted with the Opti-opener for OSR and Bean establishment.
Two rows of staggered tines for improved inter-tine clearance
Unique adjustable tine angle
Rear drawbar gives the option to trail a press
Hydraulically adjustable depth control
Diamond 600mm diameter steel packer roller
Option to fit Opti-openers for OSR, Cover Crop and Bean seeding
Available in 3-5m widths
Working depth 6"-10" or 150mm-250mm
Trailed Advantage SC
Tillso's new trailed Advantage with vertical tillage discs and Sabre Ultralite tines cuts through crop residue and creates tilth, whilst removing deeper compaction without disturbing the surface or mixing layers. The vertical tillage toolbar cuts crop residue and breaks up surface compaction, creating tilth. Sabre Ultralite tines restructure soil in the main rooting zone with minimum surface disturbance. The vertical tillage toolbar can be configured to suit different conditions and systems. Adding Opti-openers gives the option for OSR, cover crop and Bean seeding, and it can be used as a platform for fertiliser application.
Configurable vertical tillage disc toolbar working 30mm in the soil
Radial Disc blade has good penetration force, can be operated at higher speeds
Two rows of staggered tines for improved inter-tine clearance
Tine Working depth 6"-10" or 150mm-250mm
Option to fit Opti-openers for OSR, Cover Crop and Bean seeding
Option to mount two applicators and fertiliser tank
Available in 4-6m widths
Vertical Tillage
Tillso's Advantage uses a narrow wavy disc that runs straight and vertical, making grooves across the field at or above seeding depth (30mm).
Vertical tillage tools can be instrumental in dealing with crop residue, creating tilth, and breaking up surface compaction whilst leaving a firm surface, without burying weed seeds. They weaken hard crust, allowing moisture to penetrate in dry conditions, and create air movement in the top layer in damp conditions. The daily wetting and drying of the soil surface creates soil fissures which promote healthy root development.
The toolbar can be configured to suit different systems and conditions.
High Crop Residue and Cover Crops: With discs running directly in front of each Ultralite tine (450mm centres), the Advantage will cut through high trash conditions to stop it hanging around the leg, such as working after cover crops.
No-Till Drill: Set to run at 450mm centres in between each Ultralite tine to break up surface compaction and create tilth, leaving a firm seedbed suitable for a No-till drill.
Cultivator Drill: Set at 225mm centres between the Ultralite tines to break up surface compaction and create more tilth with a finish suitable for a conventional disc or tine cultivator drills.
Sabre Tines break up compacted layers in soil with a precise, targeted restructuring action. They create vertical fissures and columns in the soil which support traffic, unlike more aggressive tines which leave soil vulnerable to re-compacting back to the original state or worse.
Maximum Soil Restructuring
Soil is moved across the full profile width, no compacted ridges left between the tines
Precise and permanent loosening action
Even soil density throughout main rooting zone promotes healthy root development
Water, nutrients and air filter through soil, organic matter is preserved, promoting increase in worm and Mycorrhizal activity
Excess water drains easily, minimising risk of run-off and loss of nutrients, soil particles and herbicides
Minimum Surface Disturbance
Weeds seeds and fine surface particles kept on surface
Can subsoil establishing crops
Subsequent cultivations can often be reduced
Enables even consolidation
Effective OSR establishment
Surface ready for direct drilling
Diamond Rollers are Tillso's steel packer rollers with a unique design shape which aids self-cleaning and improves strength. The hardened shaped edge cuts and crushes clod and the soil is consolidated by sideways movement. Diamond ring centres are matched to the tine spacings on the Advantage machine. Replaceable inset stub axles minimise dirt ingress and allow for good sized bearings to be set into the roller so adjacent rollers on folding machines can roll consistently across the full width.
As an option, the Advantage can also be fitted with the Flexi-Till roller which delivers good surface consolidation and runs longer in damper conditions.
The Opti-Opener delivers OSR seed placement at a precise depth, with good seed to soil contact. The depth of the seed is controlled by adjusting the relationship of the press wheel to the opener point, and the latest model comes with spring tension adjustment and a cam adjustment press wheel. The tine sweeps trash away from the seeding zone and the wing leaves a level base. Soil flows over the wing to cover the seed. The opener tracks directly behind the Ultralite tine at 450mm tine centres and the seed is placed into fully restructured soil. There is the option for liquid fertiliser placement in the centre of the seeding zone, where the seed is placed either side. This is achieved with minimum surface disturbance to aid effective grass weed control, as a one pass operation.
The Opti-opener is also used for establishing cover crops and Beans using a double-pipe seed chute.
Features: Contour following - Spring loaded - Depth control on press wheel - Liquid fertiliser placement - Point/Wing assembly easily replaced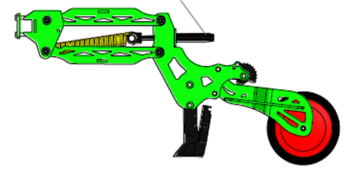 | | | | |
| --- | --- | --- | --- |
| Mounted | Advantage 3m | Advantage 4m | Advantage 5m |
| Working Width | 3.15m | 4m | 4.95m |
| Horse Power Requirement | 175/220 | 220/250 | 275+ |
| Weight | 1.2t | 1.8t | 2.2t |
| Folds to | Rigid | 2.9m | 2.9m |
| Roller | Diamond 600/FT | Diamond 600/FT | Diamond 600/FT |
| Tines | Sabre Ultralite | Sabre Ultralite | Sabre Ultralite |
| Tine Quantity | 7 | 9 | 11 |
| Leg Spacing | 450mm | 450mm | 450mm |
Trailed

Advantage 4m
Advantage 5m
Advantage 6m
Horse Power Requirement
250
300
350+
Folds To
2.9m
2.9m
2.9m
Roller
Diamond/FT
Diamond/FT
Diamond/FT
Disc Options

9 in-line

9 Offset

18

11 in-lin

11 offset

22

13 in-line

13 offset

26

Tines
Ultralite
Ultralite
Ultralite
Tine QTY
9
11
13
Leg Spacing
450mm
450mm
450mm